Well, the world cup is on again and so is all the psychic animals that move towards a team logo/flag to predict the winners.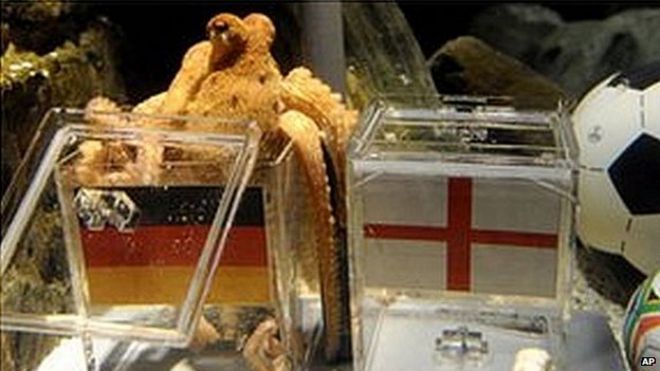 I do hope that everyone realises that no animal possesses the ability to see the future results of football games or are really good sports tippers, and it's all just a little bit of fun. But, how is it that we actually got here and how does this relate to investing?
Well, if I got 100 dogs to go towards a winning team for a match, then, just like tossing a coin, you would expect roughly half of them to go towards the correct one. So, 50 have got it wrong and just go back to being good boys, but the other 50 are right, and continue on predicting for the next match. Again, about 50% of them get it right, and so on and so forth.
After 6 matches (3 group stages, round of 16, quarter finals, semi finals) you would likely end up with
1 or 2
(100 - 50 - 25 - 12 - 6 - 3 - 1) that have got it right throughout the whole world cup just through shear numbers and random chance. So, on the days leading up to the grand final, this 1 dog winds up on The Project, Sunrise, Today Show about how it can predict the games because they've done it the whole world cup (there might even be video's of it doing it before each game). To someone external, it seems pretty amazing but to the person who's been able to view the whole thing and has seen it's just been a game of numbers and random chance and there's 99 dogs just off to the side wagging their tail, still being good boys, but having failed at some point along the way, then the feat doesn't seem so impressive.
So, how does this relate to the world of investing?
Well, a couple of ways.
1. Occasionally news.com.au or some other media outlet who's desperately trying to create new content every day will bring out a news story about how we're heading for recession this year. The stock market is about to crash this year. Property prices are set to fall - or whatever it might be - some prediction - usually negative. And the basis for listening to 'expert' predicting this is because they predicted the GFC or some other major financial event. The thing is, these people are predicting things all the time AND there is a whole raft of these types of people making predictions, that, just through numbers and chance, someone will nail it. What we do wrong, is we then attribute skill or the power of foretelling the future to that person, rather than seeing it for what it is - the 1 lucky dog.
2. In the world of investing in shares - outperforming the stock market as a whole is the goal. A very low cost way to invest in shares is to purchase an index fund - be diversified across all stocks in that market, and simply achieve the market returns so no stock specific risk. But the problem with outperforming the market is markets are very efficient (meaning that prices reflect all information at hand) which makes it very very difficult to outperform the market and also because it costs more money to try outperform the market too. But, some people do outperform the market (Refer to prediction dog on sunrise) and again, we think this out performance is based on their skill rather than just luck. It is very very difficult to say without a doubt that it isn't based on skill, and that's why this idea of investing remains. On top of that our inbuilt desire to do better than the next guy, our neighbour etc means it very hard for us to accept "Just the index return" even if statistically, trying to do better will likely mean you'll do worse.

It's so much more complex than just asking every stock picker to pick a stock that will out perform or under perform or some very clear choice, so we can track and determine if the outcomes are any different to random chance. HOWEVER, if you look back at the massive population of funds and data, it does suggest that outcomes and chances of outperforming aren't any different to winning at the roulette table by picking red or black (0 or 00 is like the fees charged by the people trying to outperform the market - you actually need to beat it by a bit so you're still in front after fees - after 0 or 00 comes up every now and then).
So, next time you see a prediction in the paper or a fund that has outperformed the market, just think - is there 99 dogs off to the side, and this is just the lucky one - no more likely to get it right this time than all the other dogs.
But, if I see a dog predicting Australia beating Denmark, then they are definitely a good boy.
Glenn Hilber is a Certified Financial Planner with over 10 years experience and the owner of Precision Wealth Management and is also a lover of dogs.
This represents general information only. Before making any financial or investment decisions, we recommend you consult a financial planner to take into account your personal investment objectives, financial situation and individual needs.